CREEPYWORLD AND DARKNESS SAFETY PRECAUTIONS

Both Darkness and Creepyworld are taking several measures to make our attractions safe this Halloween. The best way to celebrate Halloween is visiting a haunted house and St Louis has two of the best haunted houses in America. The Darkness across the industry is rated the single best haunted house in America and Creepyworld is highly regarded as the best Screampark. We want all guests to visit our haunts and feel safe. Although there is no full proof plan we've added several new safety measures we hope will help keep HALLOWEEN SAFE! Quickly we decided NOT to open Lemp Haunted House so we could focus all of our safety efforts between Darkness and Creepyworld.

We have a two phase plan to keep our actors safe and our guests. See below the highlights.

ACTOR SAFETY

All actors will be given temp checks before signing in to work
All actors are being asked not to work if feeling sick or have fevers
All actors will be wearing masks or face coverings. We have eliminated make up to ensure actor safety
All actors have access to washing stations and hand sanitizer
All actors are being asked to take costumes home and show up to work ready
We've reduced staff and asked actors to work from SCARE ZONES to limit actor to actor interaction
We've instructed all actors not to follow guests or get near guests faces
Actors are being asked to show up to work only 30 minutes prior and leave immediately after we close
Lastly, we didn't open in September and for the first four weeks of October we're only open Friday thru Sunday. From our perspective we're quarantine both Darkness/Creepyworld and our staff or essentially five days between opening to the public.

GUEST SAFETY

The Darkness and Creepyworld will be sanitized each night prior to opening all touch points
All curtains that break up scenes in both haunts have been peeled back so guests can no longer touch them
The Darkness now features a check point. All guests will be checked for face masks and walk thru a metal detector (DO NOT BRING WEAPONS YOU WILL NOT BE ALLOWED INTO ATTRACTION)
All guests will be asked to follow local guidelines for face coverings at Darkness and Creepyworld
We have posted signs at attractions and online asking guests who're sick NOT TO ATTEND Learn about Symptoms https://www.cdc.gov/coronavirus/2019-ncov/symptoms-testing/symptoms.html

We're asking all guests NOT to touch props or our actors/staff
At Creepyworld we've closed our entire Midway with exception of the new 5 Minute Escape Room
Both Darkness and Creepyworld feature multiple HAND WASHING STATIONS
The Darkness will install a que line across an entire city block offering guests plenty of space to distance themselves.
Creepyworld has added a SEVENTH que line to help spread out guests. Remember Creepyworld is nearly all OUTSIDE.
Both Darkness and Creepyworld will reduce staff and operating days
Both Darkness and Creepyworld will do its best to keep groups private at entry
Both Darkness and Creepyworld feature 3D haunts all guests will be given NEW glasses never used.
The Darkness and Creepyworld has purchased over 20,000 worth of cleaning supplies and over 20,000 masks for any guests who forgets them.

We encourage all guests to buy online to avoid another que line. CLICK HERE TO BUY TICKETS

ALL GUESTS WILL BE REQUIRED TO WEAR FACE COVERING AND TO DO THEIR BEST TO SPACE OUT IN QUE LINES




HOW WILL THIS YEARS EXPERIENCE CHANGE FROM ANY NORMAL HALLOWEEN?

Things have changed The Darkness was totally renovated the biggest one in our history. The Darkness features 15 new scenes and screams, Terror Visions has been totally rethemed and we created an all-new 5 Minute Coffin Escape Room. Next door at St Louis Escape we've added a SIXTH escape room Dracula and a new interactive mini golf, Silly Putter.

Creepyworld features an all-new Sleepy Hollow 3D haunted house and to make up for reduced staff we've added over 20 air cannon scares. There is no better way to celebrate Halloween than visit a haunted house and we're doing our best to make them safer than ever! To make Halloween work in 2020 we need our guests support to follow all rules.
The Darkness will feature 55 actors and Creepyworld 75 but keep in mind The Darkness has over 150 SCARY animations and Creepyworld has over 100. Both Darkness and Creepyworld have WORLD CLASS HOLLYWOOD level scenes and screams for the ULTIMATE Halloween experience.

Crowds should be lower this year offering the BEST POSSIBLE experience for those who attend!

If you have any other questions or concerns contact us at info@scarefest.com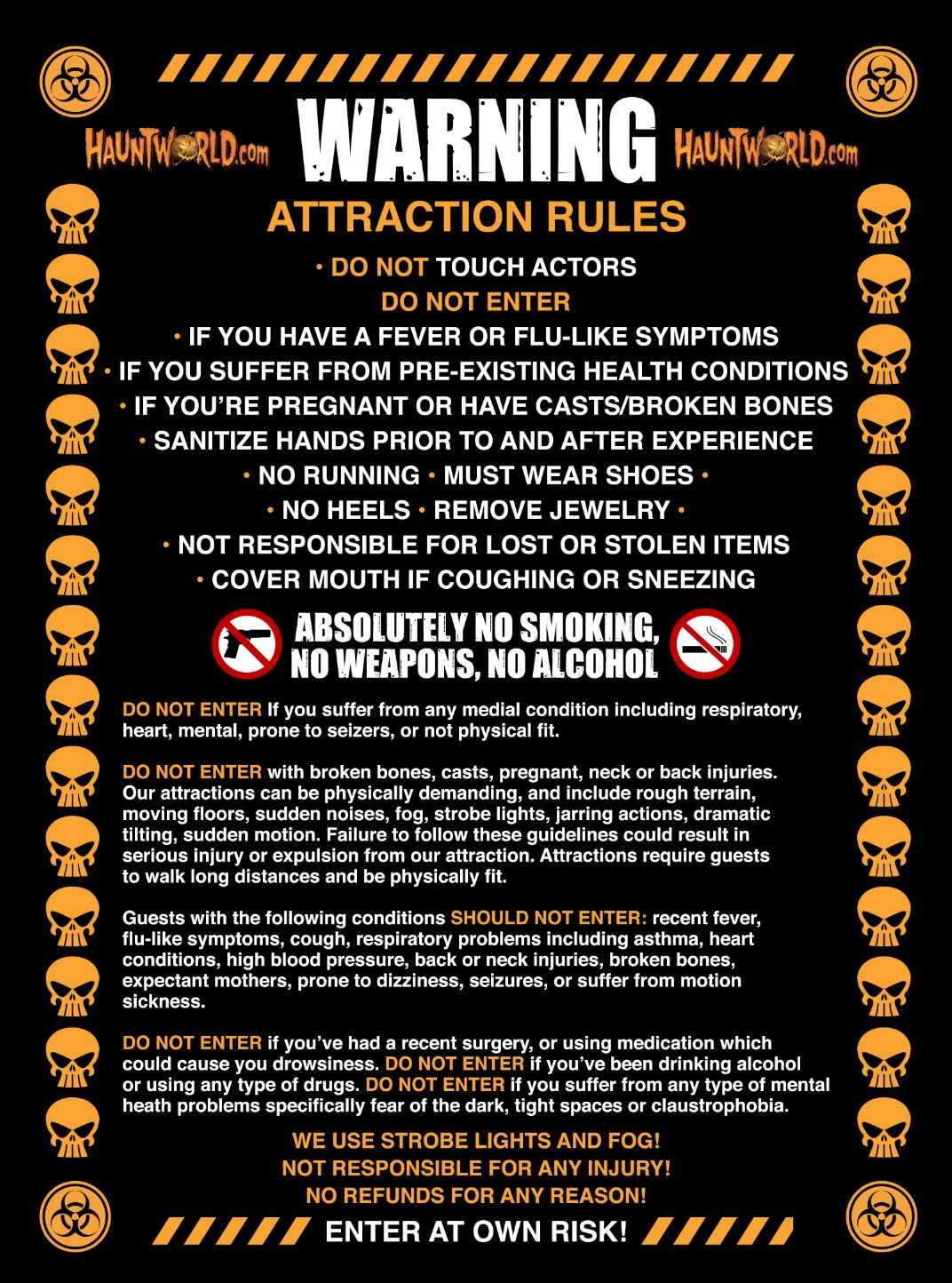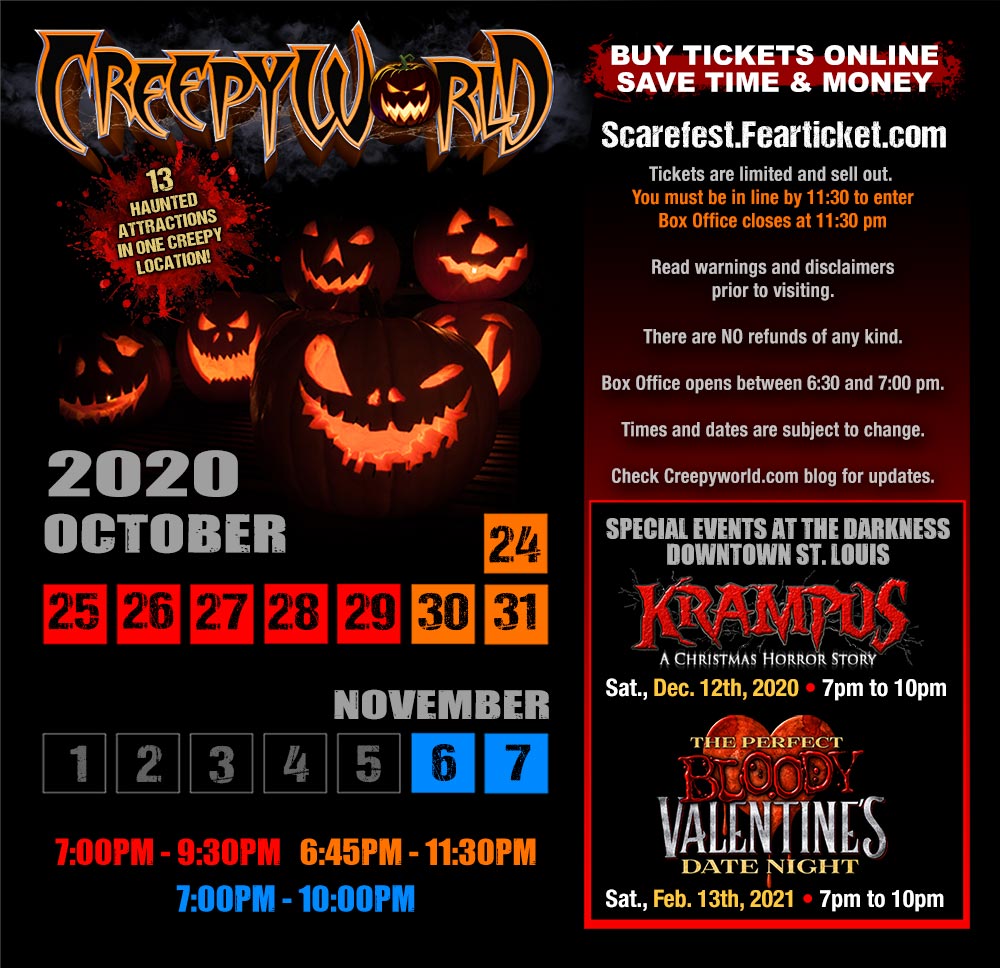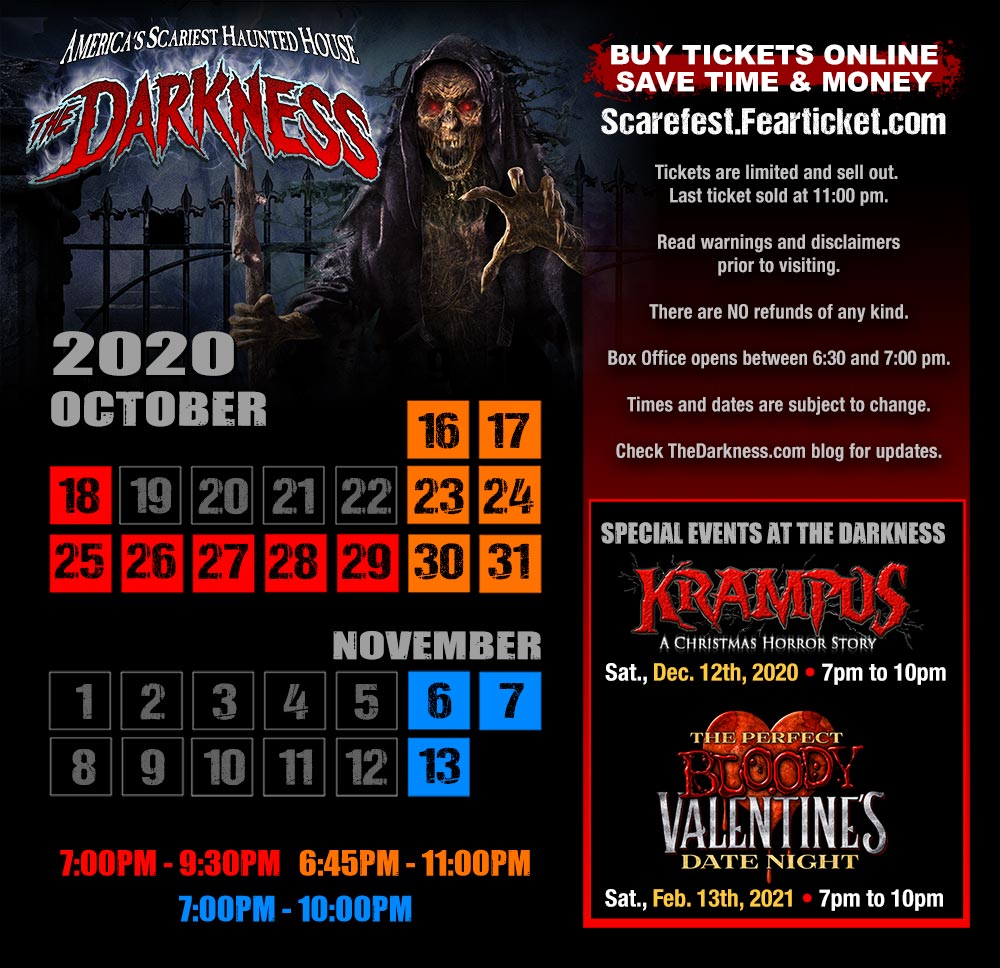 Assumption of the Risk and Waiver of Liability Relating to
Coronavirus/COVID-19 YOU ACCEPT WAIVER BY ENTERING ATTRACTIONS

The novel coronavirus, COVID-19, has been declared a worldwide pandemic by World Health Organization. COVID-19 is extremely contagious and is believed to spread mainly from person to person contact. As a result, federal, state, and local governments and federal and state health agencies recommend social distancing and have, in many locations, prohibit congregation of groups of people.

Creepyworld/Darkness has in place preventative measures to reduce the spread of COVID-19; however, Darkness and Creepyworld cannot guarantee that you will not become infected with COVID-19. Further, your attendance could increase your risk of contracting COVID-19.
Creepyworld/Darkness has taken enhanced health and safety measures. You must follow all posted instructions, including but not limited to the following:
Cleaning procedures throughout the facility;
Minimum six feet social distancing;
Minimal contact with employees and guests;
Face coverings required at all times;
Temperature screening; and,
Immediate reporting if ill or have a temperature.
By attending our attractions, I acknowledge the contagious nature of COVID-19 and voluntarily assume the risk that I may be exposed to or infected by COVID-19 by my attendance and that such exposure or infection may result in personal injury, illness, permanent disability, and death. I understand that the risk of becoming exposed to or infected by COVID-19 may result from the actions, omissions, or negligence of myself and others, including, but not limited to, employees, volunteers, and participants and their families.
I voluntarily agree to assume all of the foregoing risks and accept sole responsibility for any injury to myself (including but not limited to, personal injury, disability, and death), illness. damage, loss, claim. liability, or expense, of any kind, that I may experience or incur in connection with my attendance at
Creepyworld/Darkness.
On my behalf, I hereby release, covenant not to sue, discharge, and hold harmless
Creepyworld/Darkness
, its employees, agents, and representatives, of and from Claims, including all liabilities, claims, actions, damages, costs or expenses of any kind arising out of or relating thereto. I understand and agree that this release includes any Claims based on the actions, omissions, or negligence of
Creepyworld/Darkness
its employees, agents, and representatives, whether a COVID-19 infection occurs before, during, or after participation in any program.