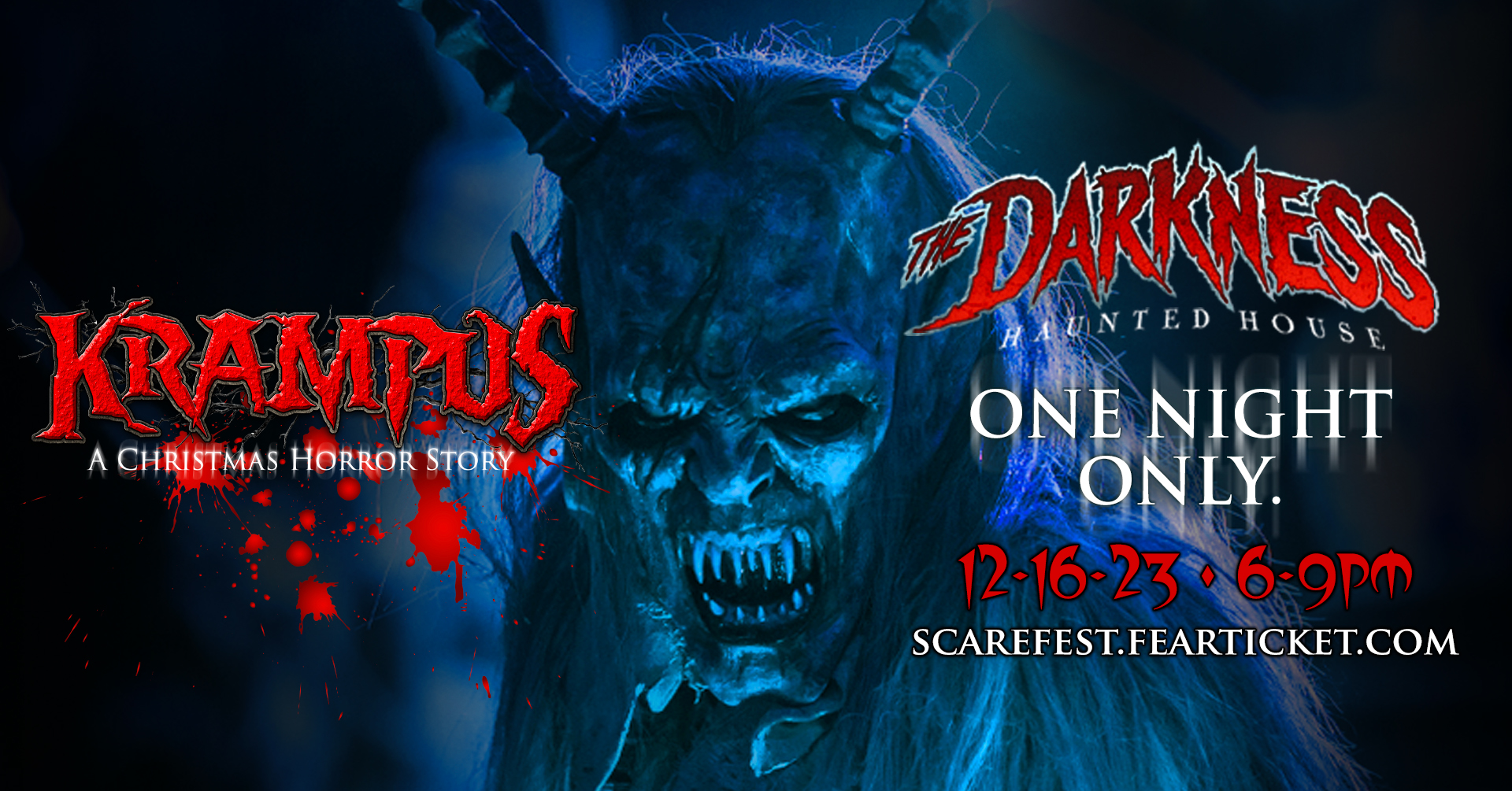 KRAMPUS RETURNS TO THE DARKNESS ONE NIGHT ONLY - DECEMBER 16th, 2023 6 to 9 pm
LIMITED TO THE FIRST 1,250 Guests. This event will sell out. St Louis' newest holiday tradition.
Evil Elves - Santa Claws - Chainsaw Weilding Snowman and more are waiting for you!

The mansion section of the Darkness decked out in Christmas lights, and Krampus waiting to snatch your soul! The Darkness also features a massive Horror Gift Shop perfect for last minute Christmas Shoppers!

Buy tickets now CLICK HERE




KRAMPUS IS BACK AT THE DARKNESS ONE NIGHT ONLY! THIS EVENT WILL SELL OUT BUY NOW!




Buy tickets online save time. There are no refunds for any reason. Tickets can be transferred to another person. Combo tickets can be used on the same night or different nights. Online coupons can't be used online only box office. Prices online and box office may vary. Read all warnings and disclaimers prior to buying a ticket. PAY AT THE BOX OFFICE WITH CASH SAVES SERVICE FEES AND TAX. COUPONS can ONLY be used at the box office.

SINGLE HAUNT ONLINE PRICES
Creepyworld - $33.95 per person Online Timed Ticket or Cash Box Office -

$36.95 Online Any Night Ticket - PARK PASS $41.95 (Creepyworld - Hayride - Jack O'Lantern Festival and Freakshow) (Save $3.00)

Speed Pass $15 online / $20 onsite - Immediate Access $65.00

Additional Attractions:

Hayride $5.00 - Jack O'Lantern Fest $5.00 w/ Creepyworld ticket - Freakshow Deluxe Stage Show Free with Creepworld Ticket
Jack O'Lantern Only $10.00 Adults - plus taxes and fees

Creepyworld Park Pass: $42.00 Includes: Creepyworld - Haunted Hayride - Jack O'Lantern Spooktacular

VIP: Immediate Access Ticket: $65.00 - NO WAITING ONLINE PRICE (Skip Main Line and Get Immediate Access) Get 10% discount at retail store darkness/creepyworld



NOTE: Timed ticket vs Online any night ticket: TIMED TICKET is where you pick a time and date you will enter the line. This doesn't mean you will go in at that time it only means you can get in line on that date and time. This option is preferred and cheaper. If you want to purchase a ticket with ANY NIGHT option simply means you can enter the line at any time we're open on any day until the end of the 2022 Halloween season. In other words ANY NIGHT TICKET means you can buy your ticket online and use it to enter the que line any night we're open not restricted to a time and date. If you're concerned about missing your timed ticket date purchase the ANY NIGHT ticket. NO REFUNDS!

Immediate Access means you can show up any night during the 2023 Halloween season and walk right in the first attraction with no waiting. All combination tickets are good ANY night we're open thru the end of the 2023 Halloween season.

Double Combo/Group Tickets
Creepyworld / Darkness $59.95 (SAVE $8.00)
Creepyworld / Lemp $57.95 (Save $5.00)



Ultimate Scarefest

SCREAM Pass $89.95 (SAVE $55.00)

Ultimate Scream Pass Includes: Creepyworld w/ haunted hayride- The Darkness - Lemp Haunted House w/ Speed Passes to all three haunts plus Haunted Hayride and Jack O Lantern Fest at Creepyworld plus FreakShow Live Stage performance



GROUP TICKETS:

Buy 20 or more price SAVE $6.00 per person. Must buy online and pay in advance.